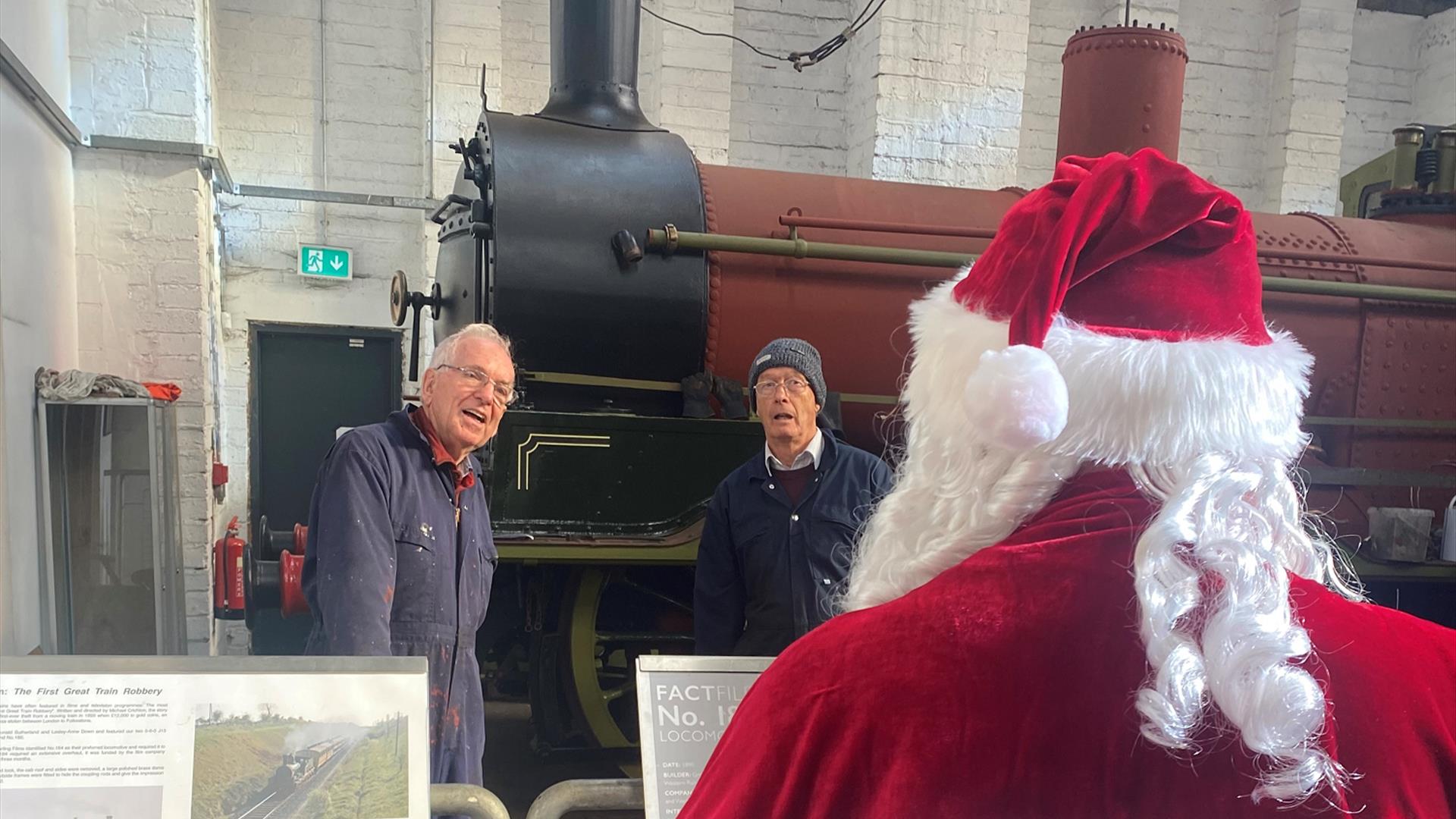 About
Come down to Whitehead Railway Museum and enjoy a unique Santa experience unlike any other. For the first time ever, we are sharing a huge secret. Did you know that Santa has chosen our workshops in which to make all of the toys for Christmas? We can't believe the honour either!! The only problem is that Santa loves steam trains and can get a little distracted so it's up to you to find him and see if he has anything for you. Mrs Claus will be on hand to help.
When you arrive for your experience, you will enjoy a 10 minute journey in a heritage carriage adorned with Victorian style decorations and hauled by a steam engine. This gives you enough time to open your special envelop containing your letter to Santa and some colouring in which you will get as you hop on board. After this, you will be escorted by our Victorian guides to a magical forest. Look out for the hidden animals in our real trees as Mrs Claus helps you to find Santa. We're sure that he will appear if you shout enough!!! You will be amazed when you see Santas sleigh and even more excited to see that he has brought one of his reindeers. Why not get your picture taken in this magical sleigh and listen to our reindeer who will be singing festive tunes? Don't forget to get a photo with the polar bears and the teddys too. All children who have been especially good throughout the year will get a gift in a reuseable drawstring bag before your guides return you to the platform where adults can enjoy mulled wine and a cookie, and children can get a drink and a cookie. While you are on the platform, have a look at our enormous snow globe and don't forget to post your letter to Santa in the chimney of one of our engines.
What's included: -
- Short train ride (10 minutes approximately) hauled by steam engine with carriages dressed in keeping with a Victorian Christmas.
- Plush envelop for all children travelling containing letter to Santa to be completed during the journey, colouring in sheet and crayons/pencils.
- Guides dressed in Victorian costume.
- Magical Victorian forest including real trees, lanterns, forest animal sand other decorations, all illuminated with lights and lanterns
- Interactive and immersive experience with Santa and Mrs Claus and our exclusive singing reindeer
- High quality gift for all children up to the age of 12 (children under 1 are not required to pay but will receive a small complimentary gift).
- Gift from Santa is given to all children in a reuseable drawstring bag.
- Polar bears and teddies, dressed for the occasion
- Enormous snow globe for photo opportunities
- Mulled wine and cookie for all adults and a soft drink and cookie for all children
- Seasonal music on the platform.
Important Information
Your experience will last for 1 hour but you are welcome to stay and sample some of the delights of our Platform 3 café.
Please be advised that some of the experience is outdoors and we recommend you come dressed appropriately.
Our carriages are heritage carriages and are not suitable for wheelchair access.
Please arrive on site at least 10 minutes before your allocated time slot.
Should you wish to be in a compartment this can be booked at a £5 supplement and will be sold on a first come first served basis.
Note, this is a static event. Although you will be hauled by an engine under steam, you will not be transported off our site.
Book Tickets
Guide Prices
£15 adult, £20 child, children under 1 go free. Compartments for the train rides are charged at a £5 supplement and can sit up to 6 people. Only 4 compartments are available per time slot.